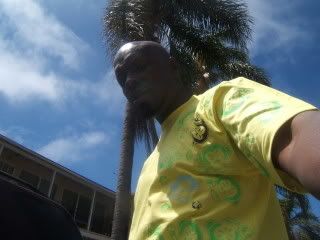 What Tha Fuck It Do Readership!
Tha BossMack TopSoil is tha Muthafuckin way, Catch me Flirtin' wit Bitches every Muthafuckin' Day! I puts tha Long Beach my Mackhand down daily around this muthafucka. I mean like, I receive benefits from bitches on a regular basis. You see tha BossMack TopSoil has mastered tha art of making everyone I come in contact with feel good, unless I don't like a muthafucka, ya dig? Tha BossMack TopSoil is always in a good mood, When bitches see me on relucent, Bitches get happy. I never Kick Rocks, I always believe I am going to win.
This past weekend The Long Beach Marathon went down, If you are regular reader of my shit you know I runs in that every year. Well this year I didn't run in tha Long Beach Marathon, I have ran in that Marathon every year since 2001, Tha first time I ran that Marathon my former BossBitch Kawana held me down that day, so I took tha day off and went and visited her. As you may know from my past posts, she has been decimated by a Severe Stroke. I kicked it with her and watched "America's Next Top Model" and read her some magazine articles outta Complex Magazine, Vibe and In Touch Magazine.
That
Nigga
T.I.
T.I. is Fucked, there is no way to escape a minimum of five years in a Federal Pen. I cannot believe this Nigga was trying to purchase guns off tha street, That alone is gonna have a nigga in tha Pen, but fucking with SILENCERS? I know several Niggas in Federal Pens now for getting caught with ONE silencer. Let me see if I remember tha consequences for getting caught with all that he got caught with as a convicted felon. If you are a convicted Felon and you get caught with one gun, I believe thats 5 Years in Prison, Oh and thats if you get caught by the regular police. Now as a convicted felon trying to purchase many guns and silencers? Oh and you send one of your boys to hook tha deal up like you a Boss, then ATF agents come outta nowhere on some raid shit like it was a long investigation? That means you are DONE, I don't know how a Nigga can escape something of this magnitude. I don't know all of tha details, But I'm going to assume this Nigga was trying to do some business with one of his peoples from tha street who he didn't know had been cracked by tha Feds, then his peoples set him up. It's fucked up, I understand Niggas be needing to have Killers on they team, but as a high profile legit nigga you need to be more careful of how you do shit. I know a Nigga like T.I. has a lot of problems out there in them streets, I know he really prolly needed them guns and silencers or else he wouldn't have put himself in that situation. These streets are crazy as fuck for Niggas.
Tha
FBI,
ATF
and
Tha
DEA
Are all around muthafuckas at this moment! They are even reading my blog with you now. I remember a few years ago I was posted with my Niggas off in tha VIP at tha Century Club when in was Poppin', I was selfishly drinking a bottle of Moet with a straw, I poured not one bitch a glass of my amber fluid. We were looking down on tha dance floor from our lofty exclusive perch when a bitch in a provocative skimpy red dress caught my attention, My nigga P-Wayne noticed who I was looking at and said "You like Baby in tha Red huh?" I looked at that nigga and half smiled and sneered, then I said "She doing her thisle, She might fit on tha team, I gots to interview tha bitch" he laughed and said "That bitch right there is a Federal Agent" I said "Whoa, No shit? Wow here we are in a club packed with who's who in tha Los Angeles Underworld, and that bitch looks like every other bitch in here" I sat there and studied her for a while, that bitch was out there dropping it like it was hot, no doubt she was very good at her job. I should have known it before that Law enforcement floated like a black cloud over that club, but to know it for sure was a welcome splash of cold water on tha face. After that day I would hear many stories of Niggas that went up in that club, while they were in Los Angeles on Cocaine or Weed Business or perhaps even Gun Business and when they left outta that muthafucka the Alphabet Boys (Tha FBI, ATF and Tha DEA) took them to jail for many years, Imagine that for a minute if you would: You come outta tha club drunk and high, prolly with a new bitch, on your way to eat and beat up some puzzy, next thing you know you get pulled over by tha FBI and get arrested, then you find out you've been under investigation by them for years!
Vivica
A. Fox
Vivica's in Long Beach tonite at tha Terrace Theater at 8pm, My Bitch Nakita has tickets, Curtesy of tha Art Gallery she works at, she wants me to roll with her, I'm thinking about it, perhaps I'll blow some good purple and fall off in there, maybe you can see tha BossMack TopSoil live.